Products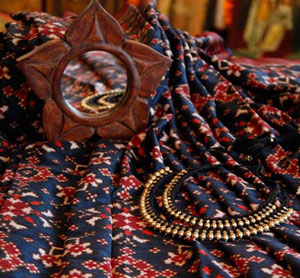 The patola was traditionally woven in a sari length of 5 to 9 yards by 45" to 54" width.
The range now extends to include tablecloth borders scarves, handkerchiefs
Design Elements:
Essentially the design in a patola are based on traditional motifs called "Bhat". These designs include "narikunj", "paan", "phulwadi", "chowkdi", "raas", "chhabdi", "choktha", "navratana", "paanchphul", "sarvariya", "laheriya" etc.
Flowers, animals, birds and human figures form the basic designs. New geometrical designs using vegetable dyes were developed and displayed at the Festival of India held in Paris, London, Tokyo, Washington and Moscow.